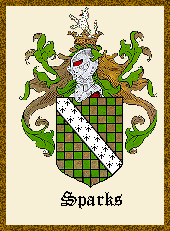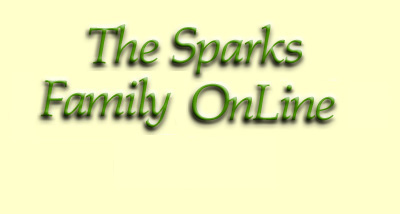 Welcome to this WebSite
The Sparks Family Association was created in the early 1950's by 3 Sparks descendants. They produced a quarterly newsletter for 50 years. The Association ended with the death of the last founder. The articles posted here are, in essence, the data from the original newsletters. I have added generational numbers in order to help distinguish among the various Sparks families.
Please Note: I have just discovered that the family number 39 is actually a part of family 32.
Please note: the webmaster is just that. I am not a genealogist, so I cannot help with any searches. If you have additions and/or corrections, I will try to include them in the site with your contact information if so desired.
Pictures: If there is not a link to a picture then I do not have it and have no way to get it. The pictures I do have are scans of scans, so there are no originals.
---
Thomas Sparks-James Hopper Family Tree
(If you find an error please send a message to the webmaster by clicking on "Contact Us". Thank you!)
Updated on November 16, 2020 1:26 PM
Site built by: Sparrowhawk Solutions, Ltd.
Webmaster: Nancy Sparks Frank